Château d'Alteville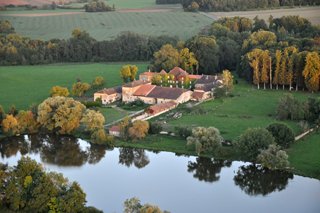 Situated in the heart of the regional Natural Reserve of Lorraine, on the borders of the "Lindre" (a huge lake well-known as one of the privileged places in Europe for wildlife, especially birds), Alteville is surrounded by a magnificent and restful landscape. It has inspired famous writers and once it sheltered glorious generals of the Empire.
Since more than a century the property belongs to a farming family. Today the house is run by Agnieszka and David Barthelemy.
Combining modern amenities with old-world charm, the Château has become a stylish place with a lovely terrace towards the park and reception rooms furnished with antiques. Enjoy the Louis XVI lounge with its magnificent paintings, the library and billiard room. The guest rooms are comfortable and equipped with en-suite facilities. The décor is elegant and traditional.
The reception is private and warm. On your evening of arrival, don't miss to book the guest table – a privileged and authentic moment, in the big "wedding" dining-room. Dishes are mainly made of products from the organic farm ; fishes come from the lake, and game from the forest. The domain's vegetable garden adds plants and herbs to the menu.
In the morning, start the day with a tasty continental breakfast. Have a look at the weather map with free Internet access. Then, explore landscape and towns in the vicinity. The historic towns of Nancy, Metz and Strasbourg are only a short drive away. David will advise you how best to fulfill your individual wishes; with trips and visits by car, on foot, bicycle (which can be provided), and even by boat!
Situated in such a quiet countryside, the Château d'Alteville is a haven of peace and conviviality. Just the right place to relax. You are welcome to come and explore.
Add this place to your selection