Abbaye aux Hommes
| | |
| --- | --- |
| | |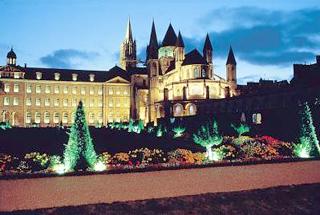 A Monument of Norman Art on which England's Fate Depends.
"When St. Stephen's collapses, England shall perish," wrote Robert Wace, in the 12th century. Imagine the terror then...
Besieged by Anglo-French rivalries during the Hundred Years' War, sacked by insurgents during the Wars of Religion, and targeted by bombing raids in the summer of 1944... Was it that the poet's prediction did not come true ? Or was it the hand of God protecting St. Stephen's ?

Come, enter ! Now a parish church, the edifice will charm you with the purity of its lines and the nobility of its semi-circular arcatures. A masterpiece of the Norman Romanesque style, you will see how its harmony is maintained with a Gothic chancel.
In the cloistered buildings, you will see the Tuscan arcades of the cloisters and the lovely rows of panelled rooms. You will hear the story of how, since their 18th-century reconstruction, they have been converted first into an Imperial Lycée and then into Caen's City Hall. As you pass through the old chapter house, you will learn that weddings are now performed there. What a fitting destiny for a monastery founded because of the Conqueror's own marriage !
Add this place to your selection