Abbaye de la Sainte-Trinité
| | |
| --- | --- |
| | |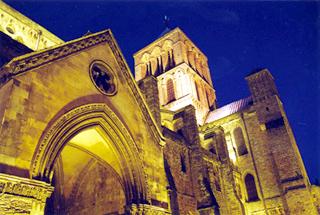 Noble Stones and Precious Blood : the Abbey of the Great Pilgrimage.
Anchored to a plateau in the Pays de Caux, the abbey's long vessel hoists its mast, or lantern tower... Fécamp, a Gothic marvel.

Don't be surprised by the abbey's Classical facade. Under the high diagonal rib vaults, a great history of the arts and of faith is told. Charmed by the mystical spirit that inhabited the builders in the Middle Ages, you will walk through the nave and discover the treasures handed down over the centuries : the 15th-century splendour in the Dormition of the Virgin, the Renaissance beauty of the cabled columns in the ambulatory, the Baroque crown on the canopy of the main altar and ... traces from the Romanesque period or even before.

When the monks built the abbey sometime after the year 1000, God sent them a sign : the miraculous gift of His Son's Precious Blood. This most holy relic has been preserved since then in a tabernacle in the sanctuary. The abbey was once a major pilgrimage destination, and while now owned by the city, its soul remains true to its religious vocation.

Open daily (except during ceremonies). Opening hours vary depending on the season.
Add this place to your selection