Abbaye de Lessay
| | |
| --- | --- |
| | |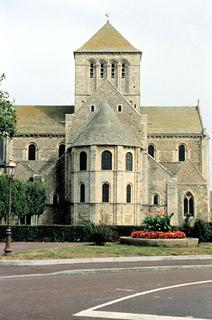 Romanesque Grandeur Rebuilt from the Slightest of Ruins.
Romanesque stones and schist roofs, you are standing next to a "miracle". Lessay was "noble and imposing. I have never seen anything so close to ancient grandeur and simplicity."

The author of this praise had seen his share of wonders : Mérimée, famed writer and Inspector General of Historic Monuments.
A century later, stupor and collapse : struck by bombs in the summer of 1994, the church was in ruins.
Its splendour was gone but not lost. The restoration work performed here is equalled only by the marvellous result itself, rebuilt stone by stone as a poignant, "identical" copy of the original.
As you enter here, look and listen... The melodious resonance of the pure lines, the vibrant harmony of the soaring arcades, the pure echo of light filtering through stained-glass windows loosely inspired by Irish illuminations. Lessay is a song to Romanesque beauty. The abbey was founded in 1056. For centuries and centuries.

While the conventual wing, which has been private property since the Revolution, is closed to visitors by a gate, you can tell yourself that such was the case even in the monks' time.
Add this place to your selection