Abbaye Saint-Martin de Mondaye
| | |
| --- | --- |
| | |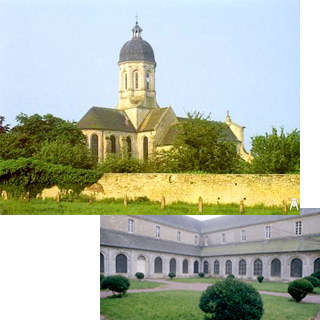 Classical Beauty at the Heart of the Liturgy
Mondaye, a green hill from which fresh springs flow. In the local dialect, it is called Mont d'Aë: Mont d'Eau or Mountain of Water. In Church Latin, it is written Mons Deï: the Mountain of God.

At the beginning of the 13th century, a few hermits lived here. Some Norbertine canons joined them, and this was the genesis of the abbey. Mondaye is 800 years old.

But Mondaye does not show its years. Rebuilt in the 18th century, Mondaye is a masterpiece of Classicism and the Counter-Reform. It has the beauty of the Angels, who from the ground to the transept tower and from the Parisot organ to the Assumption in the side chapel, animate this church with a celestial echo. See and hear how, upon their wings, they carry skyward the voices of the chanting canons. Everything is in tune here for the eye, the ear and the soul, for the master builder was not only architect and painter, but also a monk working and living with his brothers: Eustache Restout, servant of God and a craftsman of Beauty. That is how he represented himself, holding his palette of colours and wearing the white Norbertine habit. The canons who greet you today will be wearing the same.
Add this place to your selection