Abbaye de Montebourg
| | |
| --- | --- |
| | |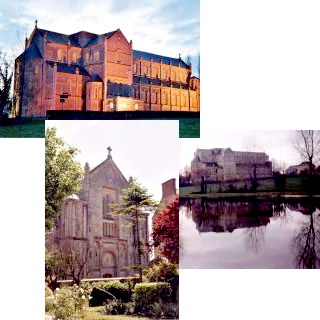 A School Garden Where the Queen of Flowers Is a Star.
Once upon a timeÂ… All wonderful tales begin this way. The story of this abbey's origins is so marvellous that it merits such a beginning.
Once upon a time, a monk left Savoy and upon his arrival in Montebourg, a star told him that his wandering was at an end. God was waiting for him here so that he could found an oratory dedicated to the Queen of the Heavens, Our Lady of the Star : Notre Dame de l'Etoile. When notified of the wonder that had occurred in his duchy, William the Conqueror granted the monk the necessary land and revenues to build a monastery.
And the centuries passed.

In 1842, the Vicar General of Coutances acquired what was by then only an enclosure of ruins, and set it up for the Brothers of Mercy, which he had just formed in order to promote Catholic education in the countryside. From there, the brothers pursued their work...
The abbey church, which was rebuilt amidst thousands of flowers, is now an agricultural school where pilgrims and pedestrians can come for a rest. It will enchant you as well, with all the fragrances that drift over the park from the mill to the pond, all in memory of a Star.
Add this place to your selection