Abbaye Notre Dame de Montivilliers
| | |
| --- | --- |
| | |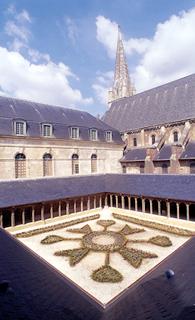 An Abbey Draped in the Flamboyance of the Cloth Industry.
Do you think that gender equality is just a modern concern ? False! In the 7th century, the Church was already thinking about it, particularly St. Ouen, Bishop of Rouen. He asked God to grant that on his lands as many religious communities be founded for women as for men.

With the bishop's backing, St. Philibert founded Montivilliers Abbey, an abbey for nuns draped in sackcloth behind closed gates. The abbey was located in the heart of a prosperous cloth-producing city. In the 15th century, the wealthy burghers triumphantly added a second flamboyant Gothic nave to the Romanesque bays of the Benedictine abbey. However, these were strange parishioners, indeed : during the Revolution, the sans-culottes chased the nuns away. An abbey! Prisoners were held here. A pub was opened. And then... Silence.
Now the splendour has been recaptured, in the intimacy of ancient stones. A presence remains. One thinks of the nuns bowing down in contemplation of the Mystery. Their memory will guide you from the renovated refectory to the rebuilt cloisters, and from the chapter house to the dormitory, as part of a moving museum exhibit that vibrantly evokes the nuns' lives, the abbey's history and its architecture.
Add this place to your selection