Abbaye Notre-Dame du VÅ"u
| | |
| --- | --- |
| | |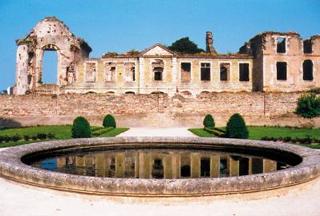 An Abbey at the Seafront and the Battlefront.
Widow to the Germanic emperor Henry V, Matilda married Geoffrey Plantagenet, but to all she remained the Empress, William the Conqueror's granddaughter. In 1145, fleeing a rebellion of her English vassals, she boarded a frail barque and, caught in a frightful storm, she vowed to Heaven that she would found an abbey on the spot where she reached the shore, if she reached the shore...

The barque struck land to the west of Cherbourg. And there, a community of regular canons took up residence. Such are the origins of Notre-Dame-du-VoeuÂ… a monastery located on the seafront and on the frontline of Anglo-French hostilities. What perils it has known, from the Hundred Years' War till the siege of 1758, when it was annexed by the battalion of port fortification! The abbey then became a military hospital, barracks and arsenal. And when the English returned as Allies in the summer of 1944, the abbey suffered through the hell of combat during the Liberation.
You will still see, however, its walls, its vaults and other remains of the abbey, sublime survivors of this destruction.
You will also see a face on a flat tomb, said to be Father Guillaume, offering a magnificent and moving image of the 13th century, both so far away and so near.
Add this place to your selection