Abbaye Saint-Georges de Boscherville
| | |
| --- | --- |
| | |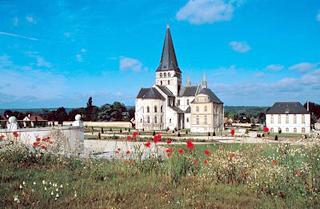 A Beautiful Romanesque Abbey and Its Retinue of Sculpted Columns.
For more than eight centuries, a sanctuary was dedicated to a Celtic god. In the 7th century, this past was buried under a chapel dedicated to St. George. Then in the 11th century, the great chamberlain Raoul de Tancarville founded a collegiate for canons, which was in turn succeeded by a Benedictine monastery, whose gardens and abbey church you can visit today.

Let yourself be inundated by light in a church whose Romanesque harmony is based on the purity of its lines and on the whiteness of the stones: an exception that makes it a marvel... Have a look at the "Minter of St. George's" : a rather strange minter indeed, since the abbey never had the right to mint coins.
The statue columns in the chapter house are less equivocal: Death slitting throats, St. Benedict transmitting to his sons the Rule that leads to wisdom and then eternal life... The monks also had a vast knowledge of holy remedies and cures. As you pass through their gardens, you will discover the secrets of the plants, flowers and aromas that cured ills and enchanted the soul.
Add this place to your selection