Abbaye Saint-Vigor
| | |
| --- | --- |
| | |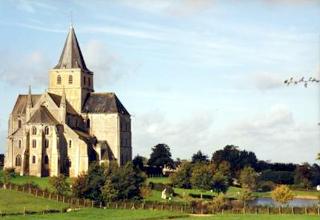 A Romanesque Allegory of Light.
Do you find the abbey church's facade a bit disconcerting ? Remember that it is merely a wall built to separate the monks from the parishioners, who were relegated to the first, now long-gone bays of the nave. The sanctuary itself was reserved for clerics...
No, there is no need to linger in front of this facade. Behind it lies an architectural treasure : the marvel of these great Romanesque abbeys that sealed the glory of ducal Normandy in stone. Founded in 1032, Cerisy is one of the oldest and most audaciously beautiful abbeys. There is the purity of its design, and the sober elegance of its semi-circular arcades. And the chancel pulses with light! The apse is lit by three flights of windows. Cerisy is a high point in Romanesque architecture, but were it not for the lack of a lancet keystone, the style would shift to Gothic elation.
The abbot's chapel is Gothic ; it can be seen not far away, near the porch where the lower room and the bailiff's room house a small, but rich museum of precious stones as well as the archives. Memories of the Middle Ages, when beautiful Cerisy radiated across the Cotentin soil and greeted crowds of pilgrims on their way to Mont-Saint-Michel.
Add this place to your selection