Abbaye de Saint-Wandrille-de-Fontenelle
| | |
| --- | --- |
| | |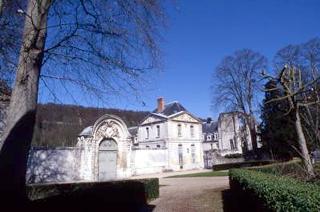 An Abbey Whose Church Remembers When...
What a grandiose reception !
The Marquis of Stacpoole welcomed his guests in the romantic decor of his French "fantaisie". The French Revolution had chased away the monks.

A night at the theatre ! The playwright Maeterlinck also received his guests at the abbey... The anticlerical laws of 1901 had again expelled the monks. However, St. Wandrille remains an important spiritual centre. Despite the tides of history, which have sent monks into exile time and again, silence still reigns here, the silence of men retreating from society to contemplate their faith. Do not be misled by the fascinating beauty of the Gothic ruins, whose string of arcades hangs under the vaulted sky. There is life here : a life in God. It has been so for 14 centuries. Founded in 649 by Wandrille, a handsome nobleman who preferred a monk's habit to Court fineries, the abbey has a rich past engraved in its walls. You can admire how the sumptuous Classical architecture is in harmony with the splendours of the abbey's mediaeval heritage. The church is both so recent and so ancient... It was a barn in the Middle Ages. Relocated from a nearby farm, it now forms the magnificent nave under whose timbers the Gregorian chants resonate during mass.
Add this place to your selection