Abbaye aux Dames
| | |
| --- | --- |
| | |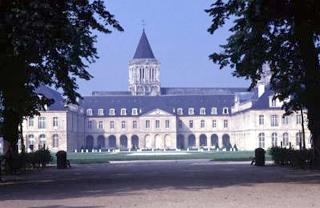 In the Footsteps of the Ladies of Caen and Their Noble Daughters.
On 18 June 1066, the day on which the abbey was consecrated, Matilda and William offered the fruit of their union to God. Their daughter Cecilia was 5 years old. She was raised at the convent, became its abbess and was given the title Madame de Caen. This honorific title was bestowed on all the succeeding Mothers Superior of an abbey whose nuns came from the finest aristocratic families... This lasted until the Revolution, when noble privileges were abolished and the assets of the Church were secularised.

At that time, the convent, magnificently rebuilt in the 18th century, became a barracks, a beggars' home and a hospice. Down and down it went... until its superb renovation as the new home for the Regional Council, the heir to the ducal power of old.
The abbey church, though greatly modified over the centuries, retains its Romanesque harmony, which speaks so eloquently to the silent soul. Do not forget to visit the underground St. Nicholas Crypt. The authenticity of the 11th century is there, in a forest of columns whose capitals bloom with scrolls, rippled by a breath of eternity.
Add this place to your selection