Abbaye de Savigny-le-Vieux
| | |
| --- | --- |
| | |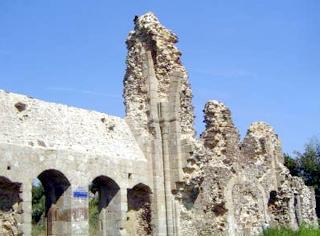 Old Walls That Were Once a Model of Religious Fervour.
The walls are entwined with ivy, the bases of vanished pillars remain along with a Romanesque porch overlooking the valley...
The surrounding area was once all forest. St. Vital retreated as a hermit into these woods. Then, in 1112, he founded an abbey. Savigny, a great and prestigious abbey, was the mother of the Benedictine reform in Normandy. Before adopting the Cistercian Observance in 1147, it had spread throughout the duchy-kingdom, with more than 30 houses in both England and Normandy. Savigny… But then the Revolution struck, in such a destructive manner! It is said that Henry II Plantagenet once stayed here and that St. Louis once passed through these doors. However, these pillars are now held up by the echo of prayers... The memory of the site belongs to the monks whose names have not been passed down over the centuries ; only their vow of humility and religious fervour is known to us. Here, they served God. Here, they came to bring forth the fruits of the Earth. To better understand and discover how they lived, continue your visit in Saint-Hilaire-du-Harcouët.
The Centre for Sacred Art opens the doors of the abbey in the form of a scale model.
Add this place to your selection