Château de la Barben
| | |
| --- | --- |
| | |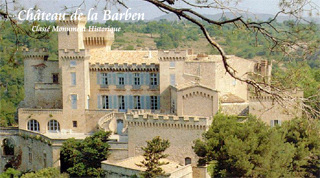 The chateau de la Barben overlooks a magnificent environment with a view of the green oasis formed by the valleys of Maurel and La Touloubre.
Castle de la Barben is the antique "Pisavis" that abutted the Aurelian Way.

The "castrum Barbentum" is mentioned for the first time in 1064 in a cartulary of the abbey of Saint Victor of Marseilles.

Chateau de la Barben was built on huge rocks.
Its towers, turrets and hanging terraces give this place its beauty and mystery.

By a monumental staircase you reach the main terrace where a magnificent view extends beyond Salon de Provence and the Etang de Berre. To the south, between medieval towers, emerges a delightful little pleasure palace with windows and wrought iron balconies of the classical period with a beautiful staircase, "double révolution", built under French King Henry IV.

The Chateau de la Barben, jewel of Provençal heritage welcomes you in its magical setting and opens its sumptuous rooms and suites. You travel in the corridors of time through antique furniture. Breakfasts and host tables are served in the large dining room, kitchen or on the terrace medieval.
Add this place to your selection