Château de Challain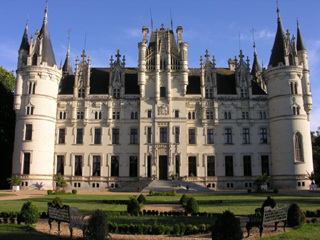 Welcome to Chateau de Challain, the "Petit Chambord". Completed as a private residence 1854, this magnificent chateau is the jewel of the region, now hosting gala events and providing guests with luxurious suites for their holidays in France. Designed for superior comfort, each room is brightened by the charm and elegance of a glamorous era. Come visit, and step inside a fairytale.
At the Chateau de Challain all of our accommodation has been refurbished to a standard that offers the grand design of the nineteenth century, with the luxury of today's building technology,all conveniences are available at the chateau. Each suite includes robes, slippers, a hairdryer, private wc, bath and tea & coffee making facilities. We aim to make your holidays in France truly memorable.

The Chateau de Challain is located only thirty minutes outside the town of Angers, and only one and a half hours from Paris by TGV (High Speed Train). The chateau is situated at the corner of a quaint village in the western Loire Valley region of France. The ultimate destination for your chateau holidays in France.
Add this place to your selection