Château de Germolles
| | |
| --- | --- |
| | |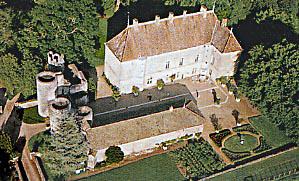 Germolles, a unique princely palace of the Dukes of Burgundy.

In 1380, Philip the Bold (Philippe le Hardi), Duke of Burgundy, bought the stronghold of Germolles for his wife Margaret of Flanders (Marguerite de Flandre). The Duchess transformed it into a luxurious home with the help of the finest sculptors and artists of the Burgundian School (Claus Sluter, Jean de Beaumetz).
The tour includes the cellar, the lower chapel, the two towers guarding the entrance (the remains of the original fortress), the great reception room (salle d'honneur), the ducal chapel and apartments, as well as those of the court.
The painted and sculptured décors, including the floor tiles, testify to the standing of the château. The hamlet adjoining the château and a 19th century park set out in the English style embellish the setting.
Germolles is not only one of the few palatial and princely residences of that time in France but also the only country estate (demeure de plaisance) of the Dukes of Burgundy to survive.
Add this place to your selection