La Tour du Roy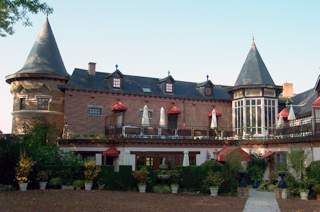 We are here to surround you with attentive service, with every comfort day after day.
Your hosts are Annie and Claude Desvignes.
In one of the three towers, Henri IV was acknowledged King of France.
The Dagobert tower offers a wonderful split-level suite with seven windows and double bath tub.
The Lord of Coucy's chamber with four-poster bed and "meurtrières" (loop holes).
The chateau is completely restored and air-conditioned :
Stained glass windows, hand painted bathroom fittings, rooms with south facing terraces.
Views over the grounds or a landscaped square. A warm welcome close to Belgium, the Ardennes, Meuse and Marne "départements" and the champagne cellars of Reims.
Add this place to your selection

Gift vouchers accepted
Compliments
Cheques Cadhoc
Stimula
Best - Everest
Kadéos
Tir Groupé
Starvoucher
CA DO Chèque Culture