Château de Vallery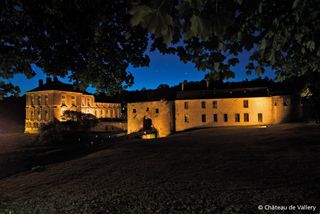 Do you take this Renaissance masterpiece to be your Château?...

1 hour to the south of Paris, discover its halls and lounges, Music Rooms, forests, complete sound system in the grounds, all 28 rooms and suites, plus more to be found in the village - enough accommodation for 140 guests... not to mention bed and breakfasts in the surrounding area.

Sheltering behind the 12th century ramparts are the oriental pavilion and its water feature. Close by, the dovecot dedicated to the moon is already dreaming of your wedding night.

And why not imagine a Henna ceremony in the rose garden? Your marriage beneath a flower-laden houppa? Some may choose to exchange vows in the church, opposite the mausoleum of the Princes and Princesses of Condé.

Enjoy exclusive usage of your own château, bathed in music and the light of a bonfire and a thousand torches. You will be free to end your night in the sweet-smelling dawn, free to choose your own caterer, free to sample fine wines in our medieval cellars before savouring authentic tajines in the pavilion, free to enjoy a barbecue brunch around the big pool the day after your big event.

If you opt for a weekday wedding, the estate will be made available to you on the eve of your special day. You may be tempted by its romantic atmosphere.
Please accept all our early wishes for harmony, magic and love.

Contact us for rates.
Add this place to your selection