Château du Mesnil Geoffroy
| | |
| --- | --- |
| | |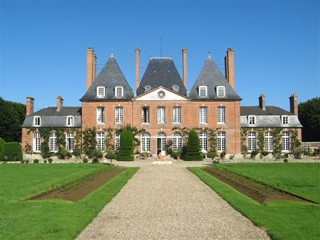 To what do we owe the originality of our guest rooms in this Normandy chateau ? It is due to their family atmosphere which is full of history and charm.
This is not an hotel but a private family home full of period furniture and furnishings. It will make you dream of French chateau life in the 18th century ! You will be given a personal welcome by the owners, the Prince and Princess Kayali and will enjoy all the peace, comfort and luxury that this chateau can offer.
We do not provide evening meals because there are excellent restaurants nearby at less than 6 miles from the chateau.
You can be assured of an unforgettable stay here !
The castle, situated at 6 km from a beach painted by the Impressionists, is surrounded by a park of 10 ha providing the rooms with a wonderful view.
The Mesnil Geoffroy Park is famous for its exceptional collection rose garden, the most important one in the region (2500 rosebushes) and by a Charmille Labyrinth.
What's the originality of the Mesnil Geoffroy Castle ? Its sophistication, its gaiety and its intimate atmosphere.
The prince Kayali and the princess Anne-Marie Kayali will welcome you simply and warmly. They will make you love their family home and help you to discover the wealth of the region.
Add this place to your selection