Jardin Exotique de Roscoff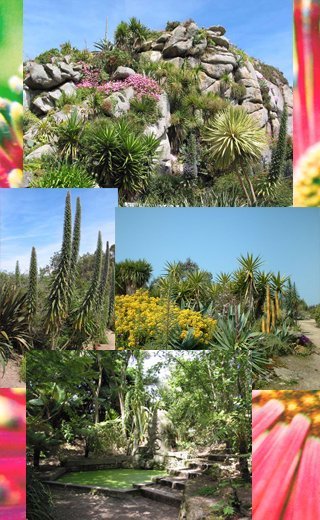 The garden shows to the public, and one of the largest collection of the Southern Hemisphere plants and a large range of cactus grown under our climate.
We present an incredible botanical range of plants originally from South Africa, New Zealand, Australia, South America including Chili, the Canary Islands and Madeira.

So, you will see different collections of Protea, Callistemon, Eucalyptus, Pittoporum, Kniphofia, HebeÂ… Among floriferous typical South African plants.

The panoramic view from the top of 18 meter high natural granitic rock allows you to contemplate the bay of Morlaix and overlook the garden.
The ponds, cascades and the spring bring some freshness.
The turtles and fishes living in them will delight kids and parents.
The exotic garden of Roscoff is a world of flowers, colours and extraordinary scents in an exceptional environment.

A visit to the exotic garden of Roscoff will be fantastic for the photographers, the botanists, the garden lovers and the whole family.
Add this place to your selection

Gift vouchers accepted
Compliments
Cheques Cadhoc
Stimula
Best - Everest
Kadéos
Tir Groupé
Starvoucher
CA DO Chèque Culture