Les Jardins de Viels-Maisons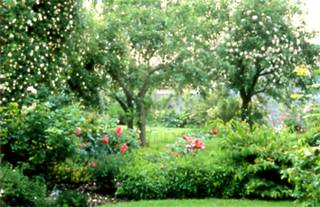 The gardens are in the 18th century park of an early 19th century chateau next to an old church. Thay have been designed as a succession of gardens by landscape artist Sonja Gauron : a priest's garden, gardens of roses and medicinal plants, an English garden, monochrome of colours, then a white garden, a romantic garden, a water garden, a garden of wild plants, hydrangeas, rhododendrons and a somewhat surprising sundial that actually works !
4 and 5 June 2005 : " Les journées Antiquités et Ornements de jardins " also attract the amateurs of gardens for which the Object of gardens - sculptor, topiary, banks, muds, gloriettes - accompanies the plants.
A Shop is in the garden.
Add this place to your selection

Gift vouchers accepted
Compliments
Cheques Cadhoc
Stimula
Best - Everest
Kadéos
Tir Groupé
Starvoucher
CA DO Chèque Culture