Capelongue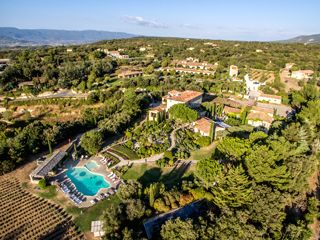 The panorama takes your breath away.
From the edge of the Claparèdes plateau on which it sits, Capelongue overlooks the Petit Luberon and Bonnieux, a magnificent village perched in the heart of the "Luberon Golden Triangle". Authenticity and generosity reign, rocked by the charm of this Provence in the hinterland where people come to take refuge. A place that invites you to take height to relieve the pressure, a hamlet designed around a village square, the heritage and incarnation of today's Provence, a place of celebration .
In this authentic and warm hotel, the rooms are the setting for your summer stays in the blazing sun, or your peaceful winter retreats. All the bedrooms are distinguished by a unique universe that emphasizes the requirement of comfort, aesthetics and privacy. Opening onto the gardens, swimming pools or offering breathtaking views of the Petit Luberon and the village of Bonnieux, the rooms at Capelongue are exceptional places to experience Provence.

As for the table, the gourmet restaurant La Bastide Capelongue invites the senses to awaken with a cuisine based on the Luveron's flavors. La Bergerie, the hotel's second restaurant offers a traditional menu to discover the Provençal cuisine of yesteryear. As in a Garden of Eden, the magnificent landscaped park generously offers fruits, vegetables and aromatic plants that make up the tasty cuisine of our Chef.
Add this place to your selection