Maison Kammerzell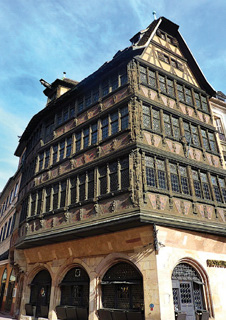 Famous Maison Kammerzell, probably the prettiest brewery of the world, is located front of the Strasbourg cathedral.
Considered as the prettiest house of Strasbourg, Maison Kammerzell symbolizes centenary splendors of Strasbourg. It original architecture, offers various point of view of regional art along the centuries. Wood sculptures, wall frescoes and many details which are witnesses of the past richness of this magical place.
Gothic foundations have been built in 1427. Its facade offers many sculpted figures representing virtues of the Renaissance.
75 stained-glass window illuminate interior of the house.
Add this place to your selection