Manoir de Villers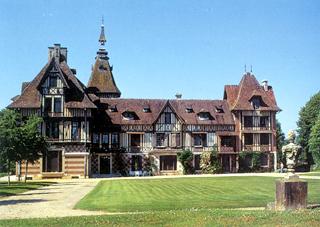 The Manor of Villers (16th and 19th centuries, Historical Monument) is established in the Valley of the Seine River.
Built between courtyard and garden, the Manor of Villers was in 1581, a "Master House" built up with local stone, with a half-timbered storey, covered with small tiles. It was transformed and extended through centuries, to become this great manor in neo-Norman style, with the roofing inspired from the best houses of Rouen, and façade dressed up with a strange "trompe l'oeil"
(architecte : Lassire).

Remain of the centuries, the Manor house is the witness of the daily country life : "maison des champs" (country house) of people from the High Society of Rouen, it recalls of a way of life made of honours, obligations, and pleasures.
Welcomed in the house, the visitor is invited to a walk through out furnitured and inhabited rooms.
They discover, guided by the owners and through the family furniture, how the french way of life, which expressed itself through Decorative Art, is tied to History.
Add this place to your selection