Manoir du Moucel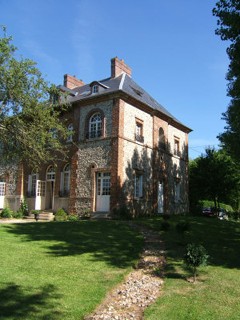 Between sea and country, ideal for a charming family/friends stay, in a pretty house.
Located at the entrance of the village, Manoir du Moucel, has been built in 1825 in the local style (called "Pays de Caux": brick and cutted flint).
Close from tennis courts (20m) and ping-pong (included) and walking tour ("Grande randonnée - GR21") and all shops in the village and superb empress Sissi's chateau.
Close from famous beaches of Les Petites Dalles (2 Km) and Les Grandes Dalles (3 Km) and Saint Pierre en Port (5 Km).
Refined furnitures, it has been renovated in 2005.
Private garden, garden room and barbecue.
Private garden, garden room and barbecue.
Manoir du Moucel can welcome 24 persons, in 2 separated appartments, that can be easily joined:
- Le Relais de Chasse at the first floor, for 8 persons and a baby.
- La Baronnie at the second and third floors.
Add this place to your selection