Musée Vivant du Cheval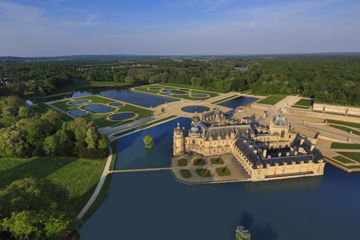 The Domaine de Chantilly is located in the heart of 7 800 hectares, in one of the largest forests around Paris.

The castle houses the Condé Museum, a collection passionately made by the Duke of Aumale. There are exceptional old paintings, among which masterpieces by Raphael, Botticelli, Clouet, Poussin, Watteau, Ingres, Delacroix ... In the heart of the castle, the Cabinet des Livres retains 13,000 books including 1,500 manuscripts and 500 incunabula. But the domain has above all the most valuable manuscript in the world: The Very Rich Hours of the Duke of Berry (fifteenth century)!

The park is unique in particular because of the diversity of its gardens: the French garden designed by André Le Nôtre in the 17th century, the Hameau that inspired Marie-Antoinette, the Anglo-Chinese garden of the 18th century and the English garden. XIXth century.

The Great Stables, masterful architecture of the eighteenth century, are among the most beautiful in the world. Inside, the Horse Museum explains the relationship between man and horse while the 30 horses and the team of 8 riders offer year-round equestrian events and shows.
Add this place to your selection