Abbaye de Fontdouce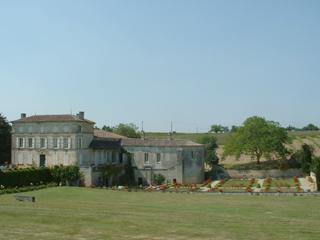 The monastery is rested by the Benedictines in 1111. It counts with its apogee a hundred monks, then rocks gradually in the lapse of memory stating from the Wars of religion. Sold like National Good after the Revolution, it is then transformed into wine form : the monastic buildings, partly hidden under one fill meter, are used at the same time of wine storehouses, hangars or handing-over.
From 1970, the current owners undertake a series of excavations intended for the restoration of the Abbey of Fontdouce. They gradually revive the very beautiful chapter house and the Gothic visiting room, the two superimposed Romande vaults and several other vestiges. This whole of buildings testifies in an original way of the many transformations that the site underwent with the wire of time. In addition to its conventual buildings, the attraction of Fontdouce is also due to its environment. They abbey is located at the variation of the large axes, in the middle of a green small valley emphisized by gardens at the Frenchwoman and basins of clear water.
They abbey includes/understands gardens with the Frenchwoman and monastic buildings still in majority preserved very well.
Among these buildings, we recommend the vault the low Romance, very beautiful and ornamented Gothic chapter house (one of vastest of France), Gothic corridor-visiting room with the stones remained suprinsingly white, and the enfermery to you. The ruins of the abbey gothic script are also suggestive power that Fontdouce knew in its time. Soon, you will be able to also admire the vast scriptorium whose existence was revealed at the time of preventive excavations during the year.
The gardens with the Frenchwoman were reconstituted recently starting from an engraving of the abbey going back to before the French revolution. They are ponctuated water points (fountains and basins) supplied with the river which you can go along through wood to reach, 400 meters upstream, its source.
Add this place to your selection

Gift vouchers accepted
Compliments
Cheques Cadhoc
Stimula
Best - Everest
Kadéos
Tir Groupé
Starvoucher
CA DO Chèque Culture