Château-Dauphin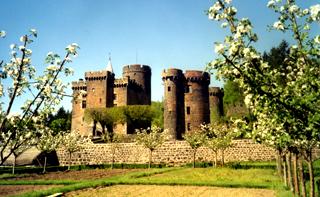 The Chateau Dauphin is a very well preserved example of medieval military architecture, built in the 12th century by Robert Dauphin, Count of Auvergne, to defend the Sioule bridge, and completed in the 15th century by Field-Marshal Gilbert III de La Fayette. Of these buildings only the keep and six towers remain.
The château is inhabited by descendants of the Moré de Pontgibaud family who have owned it since 1756. The interior was restored to its former character by Count Cesar III at the end of the 19th century.
The visitor will find numerous family and historical souvenirs (paintings, crockery, miniature paintings, beautiful furniture and interesting collection of arms). The 16th century kitchen garden (classified historical monument and labeled Remarkable Garden) is at present being restored.
Silver mine museum.
Add this place to your selection