Château de Chazelles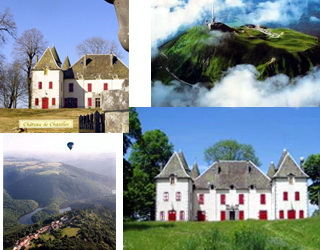 The French village of Aveze, in the middle of the beautiful nature of the Auvergne, is a superb starting point for all kind of activities. The region offers ample possibilities for a varied holiday for families and other groups. Whether you like walking, skiing or golfing, it is all possible. This all in a fantastic, original French region.
The castle has attractive bedrooms with private bathrooms, guaranteeing your privacy. Both the Chateau as the holiday cottage have sufficient communal areas and a kitchen.
And if you would like to be pampered with delicious local dishes from the Auvergne, a chef can be hired.
Living for a week or weekend in a castle with your whole family? Chateau de Chazelles offers an affordable castle holiday in a stunning environment.
The easily to be reached estate - with pool - in the town Aveze, is a excellent basis for a delightful stay in the charming French countryside. Discover the Auvergne region by climbing the Puy de Sancy (1864 m), visiting the many waterfalls of the Dordogne river, visiting the Vulcania theme park or hiking the ancient Pilgrims Path to Orcival or any other of the many possibilities.
Add this place to your selection