Château de Chenonceau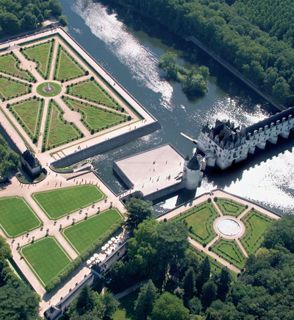 The Château de Chenonceau, a crown property then a royal residence, is an outstanding landmark, with its rich history and unique architecture. Its destiny, too, was unusual, as it was built, loved, administered and protected by women who put their stamp on History: Diane de Poitiers, Queen Catherine de Medici, Louise Dupin...
This feminine touch is present throughout, having preserved the château from conflicts and wars and turning
it into a haven of peace and serenity.
The Château de Chenonceau houses an outstanding museum-quality collection of paintings by the grand masters: Murillo, Tintoretto, Nicolas Poussin, Correggio, Rubens, Primaticcio, "The Three Graces" by Van Loo... As well as an extremely rare selection of 16th century Flanders tapestries.
A visionary château, from the Renaissance to the Age of Enlightenment, Chenonceau has been consistently nourished by innovation.
Today visitors from around the world can enjoy the finest welcome, with an unguided tour or an iPod audio/video guided tour in 11 languages.

Add this place to your selection