Château de La Vigne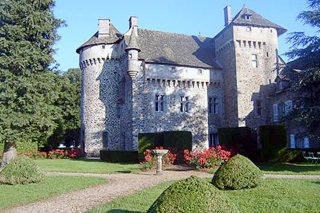 Chateau de la Vigne is located in the centre of France (40 km north Aurillac) between the Mont du Cantal (15 km from Salers) and the High Valley of the Dordogne (10 km), 10 km to the south of Mauriac and 10 km to the north of Pleaux.
This chateau is flanked by two rounds towers topped by pepper-pot roofs, and a square tower that served as a keep and to which, in the 18 century, a second building was attached : a watch-path runs around the top.
Inside, there are 16th century frescoes on the walls and ceiling of the Salle de justice ; other rooms are also tastefully appointed (fine panelling, canopied bed with barleytwist columns, coffered ceiling).
The 18th century dining room has lovely tapestries, items of Delftware and a huge sideboard. The chapel, supported by ribbed vaulting, displays murals that represent Angels carrying the instruments of Passion. The grounds command pretty views of the Cantal mountains.

The owners welcome you in person and offer 4 rooms with en-suite bathrooms, showers and toilets. A suite is also available.

A tennis court is at disposal on the spot and of many sports activities or leisures can be applied to the neighbourhoods.
Add this place to your selection

Gift vouchers accepted
Compliments
Cheques Cadhoc
Stimula
Best - Everest
Kadéos
Tir Groupé
Starvoucher
CA DO Chèque Culture