Château de Mauzun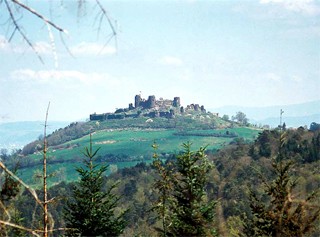 Perched in an amphitheater of mountains of Auvergne, Castle of Mauzun stands the striking silhouette of his gigantic ruins on the steps of Livradois.
Visible from afar, the fortress top a hill of an old Auvergne volcano from which it draws its black stone.
The castle is located in the heart of the defense system: sunken protected by two successive walls, all the defensive building brings together 20 towers and 1,600 meters of walls.
It covers an area of ​​5 hectares.
The castle of Mauzun is one of the largest castles in Europe, the Giant of Auvergne.
At the time it was built in the thirteenth century, the fortress of Mauzun represented the most advanced form of military architecture.
Today, tall torn towers we reveal the secret methods of defense and survival castles of the Middle Ages.
Located near village of Billom, 25 km east of Clermont-Ferrand, forteress of Mauzun is a major tourist site of the Puy de Dome and Auvergne.
Historic building open to the public, it is subject to regular campaigns work to stabilize the ruin and easy access.
Add this place to your selection