Château de Saint-Chamant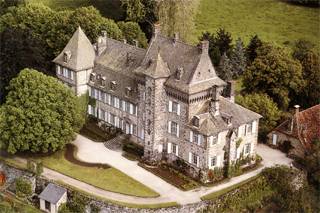 In a remarkable position overlooking the valley surrounded by the Cantal mountains, the château (a classified historical monument) consists of a 15th century keep of military origin, one of the fiefs of Robert de Balsac, the King's Chamberlain, Seneschal of Agenais and Gascony among others. In the 17th century, the Lignerac, Dukes of Caylus, built a large main building which now holds a remarkable collection of Aubusson tapestries. The present family has maintained this collection since 1783.
As well as the Aubussons, the visitor can admire 15th century Flanders tapestries, a 17th century reredos in the chapel, the large staircase and the wainscoting. The whole collection is classified.
Add this place to your selection