Château de Thoiry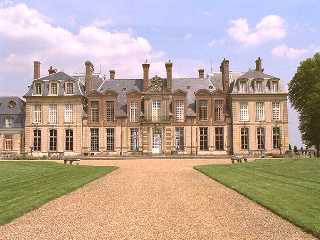 In 1559, Raoul Moreau's quest was far from ordinary, and gave birth to an astonishing creation. Treasurer of the King of France, a man of wealth, and also an alchemist, he did not find the philosopher's stone, but the ideal place to conduct his occult research.
Thoiry's site, a small hill, surrounded by hills of the same height at the same distance, corresponded to his vision. The location united the characteristics necessary to harness the forces of heaven and earth. Moreau knew that the telluric forces were magnified at this point by the magnetic fault running from Chartres to Amiens thereby creating the vital ambiance for his esoteric studies...

The great renaissance architect, Philibert de L'Orme, with the master mason, Olivier Imbert, using the Golden Mean, the Divine Proportion, constructed a rare esoteric architectural monument in perfect harmony with the forces of Nature and the Sun's course. Perfectly placed in Time and Space, the Chateau appears to be a transparent bridge of light, in whose central arch, the Grand Vestible, the sun seems to rise or set following the summer and winter solstices.

For over 430 years, the sixteen following generations of the La Panouse family have preserved this part of eternity, a man's secret dream revealed only to those whose vision goes beyond appearances. And, although it took over 400 years to unite Thoiry's 1200 acres into a unique estate, an instant enchantment carries you away to another world...
Add this place to your selection