Château du Riau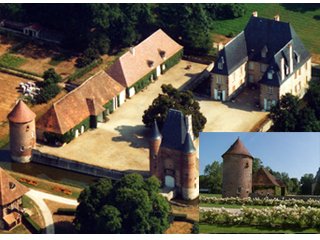 The chateau of Riau, a historical monument, dates from the 15th,16th and 18th centuries. Charles Popillon built the chateau on the foundations of a small 16th century chateau owned by Anne de Beaujeu, daughter of Louis XIth.
The 15th century slate-roofed chateau, with its 16th and 18th century outbuildings, its dove-cotes and its 15th century entrance tower (here the visitor can see an example of mullion windows), is entirely surrounded by moats. Outside the walls stands the tithe barn, one of the most curious in France, built of half-timbering and polychrome bricks by Nicolas Roger in 1584.
Collection of impressionnist paintings of Emmanuel de La Villéon.

Bed and Breakfasts (open from 1st April to 1st November).
Add this place to your selection

Gift vouchers accepted
Compliments
Cheques Cadhoc
Stimula
Best - Everest
Kadéos
Tir Groupé
Starvoucher
CA DO Chèque Culture