Château Viticole La Closerie de Fronsac
| | |
| --- | --- |
| | |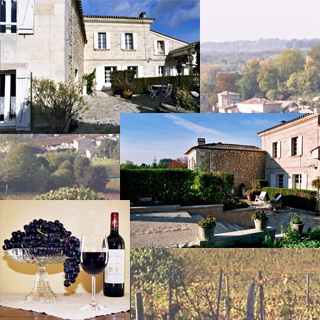 Located in close proximity to Saint-Emilion and Pomerol, La Closerie de Fronsac, guesthouse has roots the famous Bordeaux wine region going back three centuries.
This beautiful quiet residence in a quiet location in the middle of vines, offers delightful guest rooms, function rooms with fireplace, terraces with lovely view, and tasting of the Château's own wine.
This old country house breath tranquillity and has a great deal of character. It features a warm, comfortable atmosphere and radiates elegance, Old World courtesy, and a unique spirit. You are sure to receive a warm welcome, enjoy the change in culture, and appreciate all the comforts of a refined independent hotel.
Once visitors enter the house, they are overwhelmed by an old fashioned elegance of this well-preserved old family home full of antique furniture and delicate family heirlooms that exemplify the French way of life.
The atmosphere is exquisite and care is taken to respect guest' anonymity and their private life.
Add this place to your selection

Gift vouchers accepted
Compliments
Cheques Cadhoc
Stimula
Best - Everest
Kadéos
Tir Groupé
Starvoucher
CA DO Chèque Culture