Forteresse de Polignac
| | |
| --- | --- |
| | |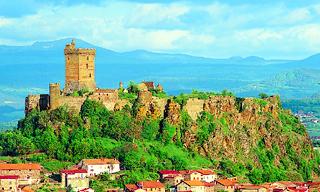 Probably occupied since the antiquity, this place has been belonging to the De Polignac Family since the eleventh century. The strategic place permitted to control the roads located in the West and North of the town of Puy-en-Velay.
For two centuries, the viscounts of Polignac fought against the bishops of the Puy, in a merciless struggle due to the toll's collection the Family imposed on the roads of pilgrimage ? "The kings of the mountains", values allies of the kings of France, but showing a very independent character, did not hesitate to rebel against the royal authority. Louis the Sixth (Louis the Fat) (1080-1137), and after Louis the Eleventh (1423-1483) had to assault the fortress to restore their authority.
Years later, Armand the Sixteenth welcomed king François the First (1494-1547) and his suite at his castle (1533). He fought by his side against Charles the Fifth. During the wars of religion, the De Polgnac Family took side with Henry the Four (1553-1610), and the fortress became the refuge of royalists, against the Puy area united.
Little by Little, the De Polignac Family looked for other properties more pleasant to live in, and neglected the fortress and its stormy past.
Add this place to your selection