Abbaye Royale de Saint Jean d'Angely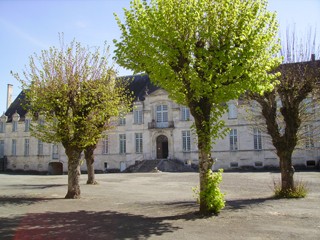 Ideally located in the Pays des Vals de Saintonge area, the Royal Abbey lies at the heart of the Charente-Maritime department and is conveniently situated in the very centre of Saint-Jean d'Angély. Destroyed and rebuilt many times, the Royal Abbey is the town's most remarkable architectural site, a large collection of buildings built in the 17th century in the classic style.

Listed as a Historical Monument and recognised as a World Heritage Site by Unesco as a stopover on the Pilgrim's Route to Santiago de Compostela, the Royal Abbey is a prestigious location, ideally suited to contemplation and social interaction, to work and to celebration.

The reception rooms and bedrooms at the Royal Abbey are arranged so as to provide the best possible comfort in a magnificent and quiet, yet festive setting, in the centre of town. There are four reception rooms, the Cloisters Courtyard, hotel services as well as restaurant facilities.
Add this place to your selection