Château de Cognac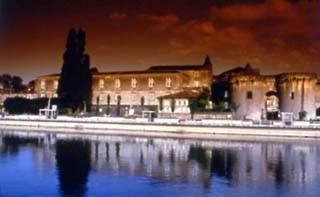 Baron Otard, the great grandson of James O'tard, was born near Cognac in 1773. His family, as owners of vineyards, were already distilling and ageing eaux-de-vie.
Arrested in 1793 during the French Revolution and sentenced to death, Baron Otard was freed at the last minute by the inhabitants of his town, and went to live in exile in England.
Upon his return to France in 1795, he founded his cognac firm which still bears his name today. In 1796, he bought the Château de Cognac. The extremely thick walls of the vaulted cellars of the Château provide unique and exceptional conditions for ageing, thus guaranteeing the harmonious, balanced taste of Otard Cognacs.
Baron Jean Baptiste Antoine OTARD, Mayor of Cognac from 1804 to 1824, MP for the Charente in 1820 and 1824.
The cognac region is characterised by the wide diversity of its land, called "champagnes", with chalky soils, plains of stony, reddish soil, green valleys and forests between the hillsides and the marshes. The relatively humid climate is strongly influenced by the proximity of the Atlantic. The region benefits from ideal sunshine for the production of top quality wines.
All this diversity can be found in the aromas and fragrance of Otard Cognacs, and contributes to their richness.
Come and visit the chateau !

Add this place to your selection