Chateau de Jallanges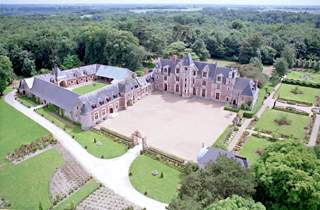 Jallanges, it before all a very beautiful castle from the 15th century is built in 1460 by the King Louis XI for his bankers. Surrounded of the famous vineyards of Vouvray and 25 acres of forest, it is the ideal place for visiting the Loire Valley by remaining in an authentic Historic building Rebirth.
Located in full heart of Touraine, with the principal Loire chateaux in a ray of less than 40 km, it remains has 10 minutes of Tours and 10 minutes of many animations of the town of Amboise (55 minutes of Paris TGV). Bordered of a superb Garden, a park with tercentenary cedars and a vault dedicated to St Joseph, classified as "Historic Monument", this castle is furnished and inhabited by a family impassioned and devoted to the French inheritance.
The family restored sumptuous rooms which are affectionately placed at the disposal of the hosts who can thus appreciate the calms, and the comfort, and the architecture and the history of this monument, personalized by the so cordial reception of the Ferry-Balin family.
On the spot you will taste one of 47 jams made in house, or you will appreciate one of the 22 wine vinegars aromatized with grasses of the Vegetable garden.
Sale of product of the Local handicrafts. Table of hosts on reservation, according to the number of requests. Take-off in the montgolfier, strolls in the barouche.Visits of Banneret de Jallanges and its seven frescos Renaissance in horn-the eye. On the spot, you will appreciate the host rooms, the professional organization of our receptions, and the visits of this private monument. Raised carpark of 2500 m2. Access handicapped.
Add this place to your selection

Gift vouchers accepted
Compliments
Cheques Cadhoc
Stimula
Best - Everest
Kadéos
Tir Groupé
Starvoucher
CA DO Chèque Culture