Château de Terre-Neuve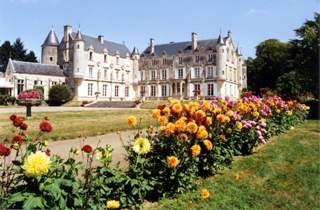 The Chateau of Terre-Neuve was built in 1580, for Nicolas RAPIN, Great Provot of the Constabulary of France and companion-in-arms of Henri IV. In this jewel of the French Renaissance, he welcomed illustrious people like the Duke of Sully, and Agrippa d'Aubigné. In the 19th century the Chateau of Terre-Neuve is in possession of the well-known etcher, Marquis Octave de Rochebrune. He produced 492 etchings at Terre-Neuve and therefore was considered by some people as the "Piranesi of his time".

Between 1940 and 1943, the famous writer Georges Simenon lived at Terre-Neuve, where he wrote many novels. Here started here "Pedigree", his first autobiographical work. You still can see the beautiful 18th-century writing-table at which he worked. His friend the painter Maurice de Vlaminck, used to visit him at Terre-Neuve.

The descendants of Octave de Rochebrune, are still living in the castle and visitor can admire the inside with different paintings by masters, furniture and clothing, all dating from the 17th and 18th centuries.
Ones of several collections exhibited is a collection of mortars.
Add this place to your selection

Gift vouchers accepted
Compliments
Cheques Cadhoc
Stimula
Best - Everest
Kadéos
Tir Groupé
Starvoucher
CA DO Chèque Culture