Château Royal de Blois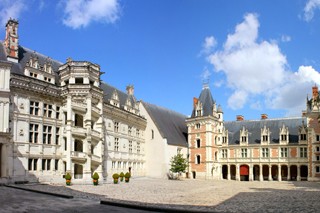 Preferred residence of the Kings of France during the Renaissance, Château Royal de Blois is a synthesis and historic castles of the Val de Loire.
Four wings of different styles and staircase together around a common courtyard, offering a stunning panorama of French architecture from the Middle Ages to the Classic architectural style.
A complete renovation of the visit tour and a new staging allows visitors to immerse themselves in the life of the Court during the Renaissance in the royal apartments are showcased beautiful restored polychrome decoration, furniture and tables.
These unique pieces of furniture evoke the daily life of the Court and to the Renaissance.
French King Francois the 1st's Private Cabinet, or the royal chambers of Catherine de Medici and Henri III, where the Duke of Guise was assassinated in 1588.
Major events have steeped the history of France in the chateau Royal de Blois.
An ideal introduction to visiting the Loire Valley ...

Every night from April to September, light & sound immerses the viewer in the story of the mysteries of the castle that have shaped the history of France. Sound effects and giant projections: a magical world of color and light!
Add this place to your selection